A message to our followers and subscribers.
I still find it hard to believe that Grammarsaurus exists and yet at the same time I find it difficult to remember a time before it – I feel like it's always been there in the background no matter what. Amazingly though, Grammarsaurus, well the website anyway, has only existed for about 3 years!
It's been quite a journey and amazingly the website as it is was a total accident and by-product of a conversation I had with a colleague in Shrewsbury many years ago. This was before the YouTube channel and before the resources! At first, the whole idea was to write a book as a guide to support teachers with the new curriculum. My colleague and I would sit for hours discussing grammatical terms and questioning ourselves. In the process, we learned a heck of a lot of things and wanted to share it with others. We shared a class and during a class discussion, a pupil spotted the thesaurus and suggested the name Grammarsaurus for the book (I think that's the case, anyway!). We thought it was an amazing name and the original plan was to write this book. Sadly, that didn't happen. I researched self-publishing, but it just seemed too complicated so instead I changed direction…
A YouTube channel and TES page (that's long gone now!) were created. I started creating grammar resources to simply help the other teachers in my school, but thought I'd share them online to see if anyone else wanted them! It turns out they did! Those first practice grammar papers had so many downloads – it was quite unbelievable. Pupils from different counties were even sending letters of thanks to me! It felt very bizarre to say the least.
I created a Facebook group to share what I was making and the love and support I got from teachers across the country was phenomenal. That's always been the best part about the job, to be honest – knowing I was helping other teachers. I suppose it is part of every teacher's core!
It's crazy to think, but the first angle I
As the group had been so instrumental in accelerating things, I entrusted them with the key decisions. I genuinely feel like Grammarsaurus was built by teachers for teachers and that's still true to this day. Everything from the look of the website, to the design and colour of the logo was chosen by our followers!
Our logo was chosen by you! Have we come full circle? Even right down to the colour scheme!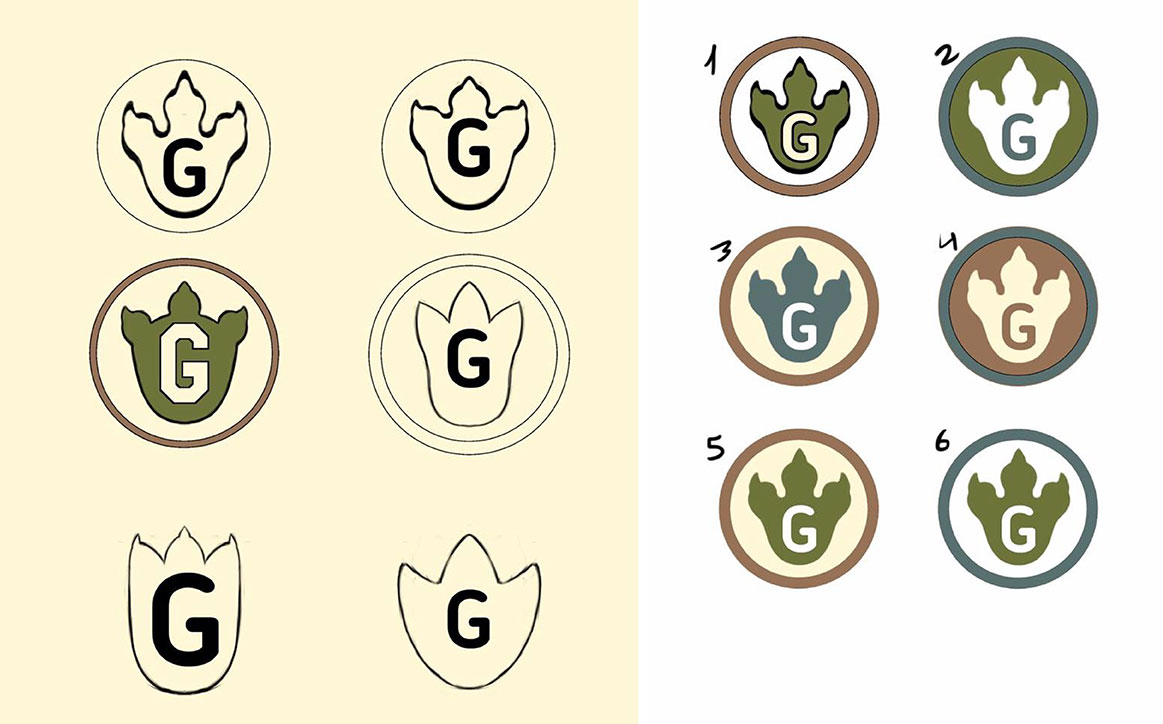 On our first day, the site had 300 subscribers. Back then, everything had to be entered manually. I remember my best friend coming over to mine to help me type in names and passwords so they can be distributed to the subscribers. Thank God things have moved forward from there! Not sure I'd have the time working full time these days.
As things grew, so did our team. I began to take on more resource makers, more graphic designers and, most importantly, my big sister to help run things whilst I was busy teaching and training.
Today, we have 20 people working behind the scenes to grow Grammarsaurus further. All resource makers are practising teachers and each one of them amazes me every time I login! Their passion and enthusiasm really makes Grammarsaurus what it is today and for that I am forever thankful!
That small Facebook page with a few hundred teachers following us is now a network of over 80,000 people across the world! I still find it crazy that we followers from nearly every country on Earth. How is that even possible?!
Being part of that network has allowed us to easily contact and work with other amazing sites – Vocabulary Ninja, Classroom Secrets, Twinkl, Mr. French, Literacy Shed and Mrs Mactivity.
It was during a conversation with Vocabulary Ninja that he mentioned his upcoming book, which was being published by Bloomsbury. You know…the publishers for Harry Potter?! It was such an exciting time and I remember exclaiming how he'd managed to speak to these people and he just so happened to have a contact who was also interested in speaking to us. My mouth dropped! As a little boy, I said I wanted to be a lot of things when I grew up – a politician (random?), a vampire (obviously still true now) and an author!
Fast forward a few months (SATs doesn't half eat your life for a while) and I was writing my very own book proposal. In true Grammarsaurus fashion, I came to you guys for the title and it was quite clear that you wanted
Grammarsaurus
A guide to Writing, Spelling, Punctuation and Grammar
(Non-Fiction)
Talk about coming full circle! The very thing I had planned from the start and thought was an impossibility was now a real, tangible thing!
It's fair to say that the journey up to now has been quite the rollercoaster. There have been so many unexpected twists and turns. And I'll be honest, there have been many times when I wanted to just give it all up! If it weren't for the support and feedback I get from followers, I'm sure that would be the case. So thank you for keeping me going! You truly are an amazing bunch and I hope our journey continues together for many years. 😀
Oh, and…please buy the book!
Mitch Hudson